People soaking up the sun on China's only nudist beach are flouting an order to cover up by wearing shorts — but only around their knees.
The half mast protest came after sun worshipers flocked to the Dadonghai beach in Sanya, a resort town on the tropical island of Hainan, to find local government party officials have ordered bare-bottomed bathers off the white sands. The ban was part of a bid to create a "civilized social environment". A half mast protester in action
The local council said they had been forced to act after being flooded with complaints, particularly from families, who said they could not go there with their children because of the large number of naked men.
They said that the nude sunbathers were always men, adding that there was no problem with women stripping off their clothes on the beach.
Earlier this year, as these pictures below show, officials went to Dadonghai beach with orders to clothe dozens of naked bathers.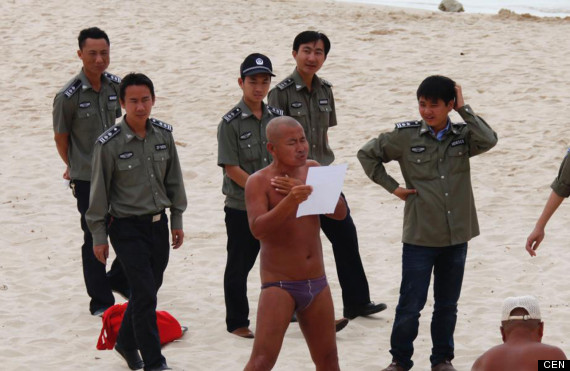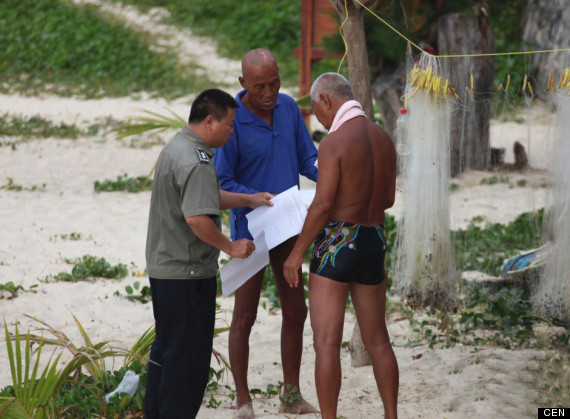 Nudists appeared unimpressed by notices telling them not to go naked, but at least they put their trunks on
They handed out leaflets outlining the Communist Party's ban on all "nude swimming or sunbathing" on the beach, a 1.4-mile crescent of sand along the South China Sea near a People's Liberation Army base.
The officials ordered naked bathers to put their trunks back on, and they have followed the letter of the law, if not the spirit.
The region has been known as China's top nudist destination for more than a decade despite never having been officially recognized by the government.
The Naked Historian, a British blog about naturism, describes Dadonghai as China's "one and only nudist beach". The "colony" also receives a mention in the Rough Guide to China, which warns potential visitors that the beach is mostly frequented by "Chinese men well past the first bloom of youth".
Local mother Yi Min Tseng, 35, who was one of those campaigning for a ban, said: "The men believe that as they are wearing trunks they are not breaking the law, but somehow the sight of them with their trunks half down revealing their private parts is even worse."